Dedicated to
Serving

the 82nd District!
Welcome to the homepage for Virginia Beach City Councilman Bill DeSteph, who is also a candidate for the House of Delegates representing the 82nd District. We hope you find your visit informative and helpful. If we can be of any service to you, please do not hesitate to send us an email or use our online contact form. You can also call 757.321.8180 to speak directly with Bill or our dedicated staff.
Now serving his second term on City Council, Bill has demonstrated his commitment to serving the citizens of Virginia Beach by fighting to maintain low taxes, carefully reviewing municipal expenditures, and reaching across all lines to help make Virginia Beach a more dynamic place for citizens, business owners, and our military community.
Bill intends to bring this same common-sense approach to the Virginia General Assembly, focusing on job growth and economic development, public safety, and smaller, smarter government. Bill continually seeks opportunities to raise public awareness, improve the general welfare, and secure the commonwealth's—and our great nation's– position for the future.
A message from Bill:
I promise to serve the citizens of the 82nd District with honor and distinction.
My vision is to make state government smaller, smarter, and more accountable while focusing on economic development and job creation for Virginia Beach. As always, the core role of government—the safety and security of our citizens—as well as transportation, education, and infrastructure, will be top priorities.
Latest News
posted under: General News
Bill DeSteph and the campaign team had a GREAT time at the Virginia Beach 5k "Rad Run" on Sunday Morning. This annual event is one of the best reasons to get messy and have a lot of fun in the safest city for it's size in America. We look forward…
posted under: General News
The Bill DeSteph for Delegate campaign would like to congratulate Lee Walker, our most intrepid of campaign volunteers who won the free iPad that was given away Saturday. Our volunteer turnout has been great throughout the campaign, but Lee has been with us at just about every neighborhood walk as…
posted under: General News
Bill DeSteph is proud to have been awarded the official endorsement of the Hampton Roads Black Caucus. This locally operated, non-partisan Political Action Committee's endorsement is not awarded by a board or committee, but it is awarded by the actual members of the Hampton Roads Black Caucus who are our…
Latest Videos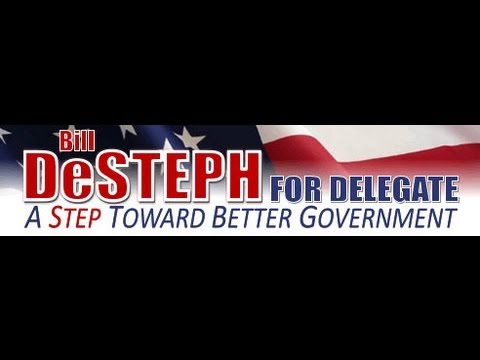 Nathan Hand Supports Bill DeSteph
Thursday, October 10th, 2013 @ 8:20AM
Nathan Hand, Former navy S.E.A.L. and President of Freewater Technologies discusses why he supports Bill DeSteph for Virginia House of Delegates.