Dedicated
to Serving

the 82nd District!
Check the status of bills under consideration by the Virginia Legislature.
Watch the live, in-session video stream of the Virginia House of Delegates from our state capitol.
Look up and research current Virginia Laws with this helpful and free online resource.
Delegate Bill DeSteph – Virginia 82nd District
Welcome to the website of Delegate Bill DeSteph, Member of the Virginia House of Delegates representing the 82nd District.
As he did while serving as a member of the Virginia Beach City Council since 2006, Bill has demonstrated his commitment to serving the citizens of Virginia Beach as well as the commonwealth by fighting to maintain low taxes, carefully reviewing municipal expenditures, and reaching across all lines to help make Virginia Beach and now Virginia a more dynamic place for citizens, business owners, and our military community.
Bill brings this same common-sense approach to the Virginia General Assembly, focusing on job growth and economic development, public safety, and smaller, smarter government. Bill continually seeks opportunities to raise public awareness, improve the general welfare, and secure the commonwealth's—and our great nation's– position for the future.
A message from Bill:
I promise to serve the citizens of the 82nd District with honor and distinction.
My vision is to make state government smaller, smarter, and more accountable while focusing on economic development and job creation for Virginia Beach. As always, the core role of government—the safety and security of our citizens—as well as transportation, education, and infrastructure, will be top priorities.
Google+
Latest News
posted under: General News
The Virginia House of Delegates and the Senate of Virginia is proud to honor the life of Lt. Sean Snyder. Snyder was the pilot-in-command of an MH-53E Sea Dragon that crashed off of the coast of Virginia Beach on Jan. 8, 2014. Five crew members were on board the helicopter…
posted under: General News
RICHMOND, VA – Senate Bill 97, which revises the minimum clearing distance between a passing vehicle and a bicycle, electric personal assistive mobility device, electric power-assisted bicycle, moped, animal, or animal-drawn vehicle, passed the House of Delegates today. Sponsored by Delegate Bryce Reeves, Senate Bill 97 cleared the House on…
posted under: General News
Wrapping up week five in the Virginia General Assembly-today was "crossover day" which means, all bills passed in the Virginia Senate will come to the House of Delegates for consideration and those bills passed in the House of Delegates will be taken up by the senate. Bills that failed to…
Latest Videos
Bill DeSteph Honors WWII Veteran
Friday, February 21st, 2014 @ 11:17PM
Delegate Bill DeSteph honors and extraordinary resident of the 82nd District.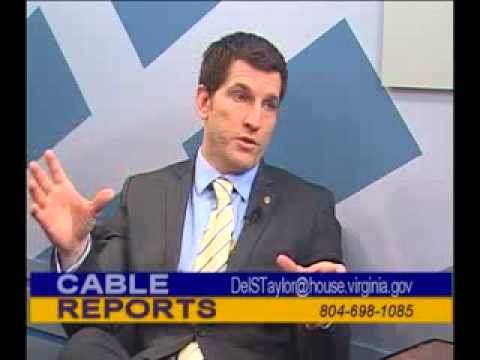 Bill DeSteph & Scott Taylor
Friday, January 24th, 2014 @ 7:45AM
Delegate Scott Taylor & Delegate Bill DeSteph appeared on a recent cable-news show giving their thoughts and insights on serving in the Virginia Legislature.