Dedicated
to Serving

the VA 8th Senate District!
Find out what's happening in the race for Senate
Get Your Campaign Gear Now-Order Online!
Join our campaign to victory in November
Bill DeSteph for Virginia Senate, 8th District
Welcome to the website of Bill DeSteph, Member of the Virginia House of Delegates representing the 82nd District and candidate for the 8th District Senate Seat representing Virginia Beach.
As he did while serving as a member of the Virginia Beach City Council since 2006, Bill has demonstrated his commitment to serving the citizens of Virginia Beach as well as the commonwealth by fighting to maintain low taxes, carefully reviewing municipal expenditures, and reaching across all lines to help make Virginia Beach and now Virginia a more dynamic place for citizens, business owners, and our military community.
Bill DeSteph brought this same common-sense approach to the Virginia General Assembly, focusing on job growth and economic development, public safety, and smaller, smarter government. Bill continually seeks opportunities to raise public awareness, improve the general welfare, and secure the commonwealth's—and our great nation's– position for the future.
He will continue to strive for Virginia Beach families as our next Virginia Senator.
A message from Bill:
I promise to serve the citizens of the 8th Senate District with honor and distinction.
My vision is to make state government smaller, smarter, and more accountable while focusing on economic development and job creation for Virginia Beach. As always, the core role of government—the safety and security of our citizens—as well as transportation, education, and infrastructure, will be top priorities.
| | | | |
| --- | --- | --- | --- |
| Share with Friends | Connect Via RSS | Contribute | E-Newsletter |
| Share this page with friends! | Get the RSS feed | Make a contribution! | Get the newsletter! |
Latest News
posted under: General News
Today marks the 396th anniversary of the Virginia General Assembly–the longest serving legislature in the western hemisphere. Originally established as the House of Burgesses on July 30, 1619 at Jamestown, it officially became the Virginia House of Delegates in 1776 with the adoption of the ratification of the Virginia Constitution….
posted under: General News
I hope that you can join me and my staff on Saturday, June 27th as we celebrate our nation's Independence by painting our neighborhoods red, white and blue. We have 10,000 American flags that we will be placing in our local neighborhoods and we hope that you will join us!…
posted under: General News
Last week, I was honored to participate in the Wounded Warrior Ride that made its way though our city on a beautiful afternoon. As a 20-year Navy veteran, I fully understand the difficulties and challenges faced by members of our armed forces, as well as their families. For our servicemen…
Latest Videos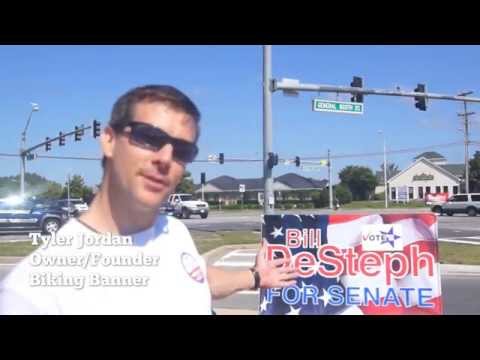 Bill Listens, Bill Cares-Biking Banners
Monday, June 8th, 2015 @ 12:21PM
Bill DeSteph challenged the ruling of local zoning authorities and got a small, Virginia Beach business owner back on his feet.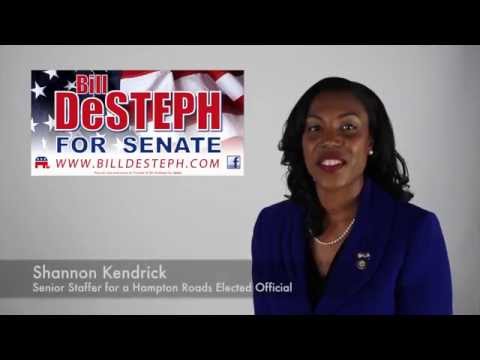 Bill Listens, Bill Cares about his constituents.
Thursday, June 4th, 2015 @ 6:50AM
Second District Director Shannon Kendrick discusses her first encounter with Bill DeSteph and why he would be the best choice for Virginia Senate.